For my recent birthday, my parents gifted me a consultation at a make-up counter and a gift card to help reinvigorate my make-up collection. I immediately knew that what I really, really wanted to get out of this appointment was someone to set me straight when it comes to lip color. I can't tell you how many different glosses, balms, and lipsticks I've purchased, thinking they would work, only to be disappointed by the finished look. Personally, I think finding a lip product is especially hard for me because of my coloring -- redness on my cheeks and strawberry blonde hair makes the majority of shades subtly, but undeniably, off.
After explaining all of this to my consultant, she eyed up my natural coloring and applied a couple shades for me to evaluate. She hit it out of the park on her first try, further reinforcing exactly how much I needed an objective professional opinion to set me straight.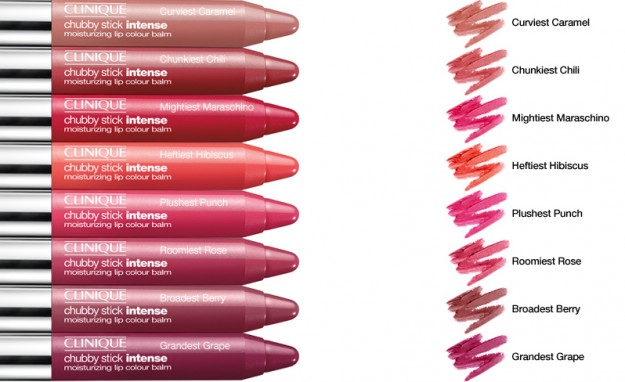 via
I ended up buying both the top shade, Curviest Caramel, and the Roomiest Rose shade, giving me perfect versatility for every day and punchier wear. Based on name alone, I would have shied away from the caramel color, figuring it would be too brown. I probably would have naturally gone for the Heftiest Hibiscus shade, and you can see based on the image above exactly how different that color is from the caramel one.
As for the product itself, I am a big fan of the chubby stick intense. It's got a ton of color, wears really smooth, and the color really lasts. I think I'm so used to other lip products that, with this product, my lips feel a little dry sooner than I'm accustomed to. That said, the color lasts way longer than the moisture, so I have to keep reminding myself that just because my lips feel dry doesn't mean I need to re-apply from a color point of view. An adjustment, but not enough to make me consider abandoning this product by any stretch.
What's the best make-up advice you've ever received? Any must-have products?